Negative Kalus
is the good opposite of the original
Captain Kalus
from a parallel universe. His armor is white and new-looking, instead of grey and battle-scarred.He also carries his crossbow on his left arm. He debuts in
Double Down
.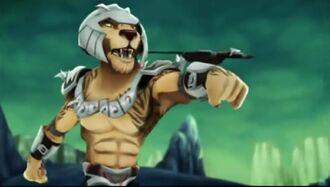 Biography
Prior to the events of Double Down, Kalus fought alongside with the good versions of Hatch, Krocomodo and Sever, but they were killed by the evil versions of the Battle Force 5. He meets the heroic versions of the Battle Force 5 and begin to new fond respect for them, following them to their Earth make a duplicating his universe Battle Key for him to go home. But, his universe Vert Wheeler attempted steal the Key. But, Kalus and the heroic Battle Force 5 meet up with the real Vert in the parallel universe Battle Zone. Vert shake his hand and wish him luck of protecting his world. Kalus is grateful to the Battle Force 5 and use the Key to protect his planet.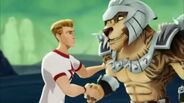 Personality
Unlike his counterpart, he upholds honor in a much higher regard and will not kill an unarmed opponent. Kalus is noble and even temper, he only use his natural instinct during battle if needed. He is also smart enough remember enemy bases and plans to reengineer his technology to aid his people. Kalus value of battling with noble warriors against evil forces who attacks peaceful worlds like his world.
Trivia
Kalus is similar to the shattered glass version Megatron by having a lighter color scheme and heroic personality. Like the shattered glass universe Decepticons, their race is named demonized them being savages.
In his universe, Red Sentients are the peaceful faction that were wipeout and hinting Blue Sentients are the aggressive faction.
Kalus's friends is close to him after their deaths. It's possible that Hatch is a loyal scientist, Krocomodo is a brother-at-arms and Sever is a cautious second-in-command.
Community content is available under
CC-BY-SA
unless otherwise noted.