We are currently editing over 313 articles and 858 images and you can help.
About
One day driving out in the Salt Flats, expert driver Vert Wheeler comes across an artificial dimension called a Battle Zone, where he meets a life form called a Sentient named Sage. Together, they assemble a racing team equipped with state-of-the-art weaponized vehicles to compete against the Sark and the Vandals in the Battle Zones for the devices that control the zones called Battle Keys to determine the fate of the Earth.
We do not allow any kind of Fan fiction on this wiki, Please post any Fanon content on the Battle Force_5_Fanon_Wiki.
Featured Article
❖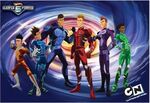 ❖

Battle Force 5, Battle Force 5 are the main protagonists in the series, led by Sage with Vert Wheeler as the field commander. Their headquarters are located in Vert's garage (which features an underground level called "The Hub"). Each vehicle has an identification modulator, molecular bonding mode, magnetic Battle Key grapplers, and a com-link system, and is powered by a Sentient Chip. These chips can be exchanged between BF5's cars and can upgrade other vehicles. Sage only has 5 of these chips, so normally, only five vehicles can operate through a storm shock portal (though all seven vehicles can operate at the same time, just not in a Battle Zone). Most of the vehicles are equipped with tow cables as well. For specialized missions, each vehicle can be upgraded with special features to adapt to unfamiliar environments. Each member is equipped with a G-Force resistant Battle Suit called a Shocksuit which protects him or her from impact and also contains a communicator and air-con units to keep the driver cool in hot, humid environments. To bond with the vehicle, each driver must name it. Read more...
Featured Character
❖
❖

Vert Wheeler, Vert Wheeler (voiced by Mark Hildreth) is the leader of Battle Force 5. After finding his way into a Battle Zone, Vert discovered and rescued the Sentient Sage from the Vandals. Vert also has a double-edged sword and a special pair of glasses that can be used as high-tech binoculars. At the end of the second season, he becomes the leader of the Council of Five, as well as its sole human member. Read more...
Don't know where to start?
Adding Content
Talk and more...
News
Associates